Lambswool Throw in Kinloch Anderson 150th Anniversary Sundial Tartan
Lambswool Throw in Kinloch Anderson 150th Anniversary Sundial Tartan
About
This Lambswool Throw in Kinloch Anderson 150th Anniversary Sundial Tartan is beautifully soft made from the finest 100% Lambswool. This throw will add comfort and style however you wish to use it. Ideal for the home, car and outdoor events, it offers the perfect mix of practicality and luxury and is both lightweight and warm. The perfect treat for yourself or as a gift for someone special.
The Kinloch Anderson Sundial tartan has been specially designed to commemorate the 150th Anniversary of the Kinloch Anderson Company founded in 1868 in the City of Edinburgh where the Company has always been based. The tartan has been named the Sundial tartan because in 1890 Councillor Kinloch Anderson, who was the second generation of family management, donated a Sundial Monument to Inverleith Park, Edinburgh. The Sundial tartan is a corporate tartan which will commemorate the restoration of this Sundial in 2018 by the Kinloch Anderson Company and Family members, supported by the City of Edinburgh and the Friends of Inverleith Park.
The tartan sett is based on the Anderson Clan tartan, thereby recognising the Company's original name of William Anderson and Son's Ltd. The tartan colours have been chosen to reflect the sandstone shade of the Sundial, the green of Inverleith Park where the Sundial is located, the blue for the Water of Leith where the Kinloch Anderson Company has been located since 1990, three gold lines which represent the three Royal Warrants which the Company holds as Tailors and Kiltmakers to Her Majesty the Queen, His Royal Highness the Duke of Edinburgh and His Royal Highness the Prince of Wales, and six fine burgundy red lines are for the six generations of the Company's family ownership and management.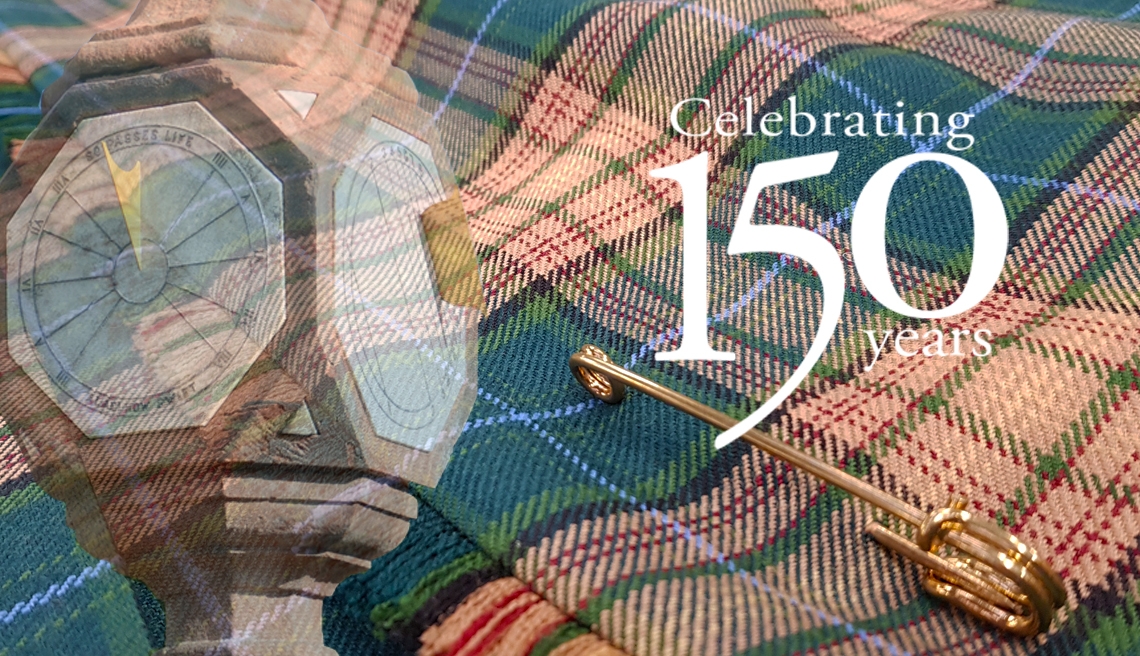 Delivery
Delivery to the UK will be approximately 1 week.
Delivery for destinations outwith the UK will be approximately 2 weeks.

Delivery charges depend on the value of the shipment and where it will be sent. You will see the costs at the checkout before confirming your order and they can also be found in our Delivery section.