Tailored for Scotland by Deirdre Kinloch Anderson - Limited Signed Edition Book
Tailored for Scotland by Deirdre Kinloch Anderson - Limited Signed Edition Book
About
This Limited Signed Edition Book is a deeply researched insight into the Kinloch Anderson company and how it has masterminded decades of change in Scottish clothing. It reveals the dedication of the family that gave it life and the times through which it has lived. With universal appeal to all who are interested in Scotland, it is a triumph of storytelling and design, enriched with evocative photographs and memorabilia throughout.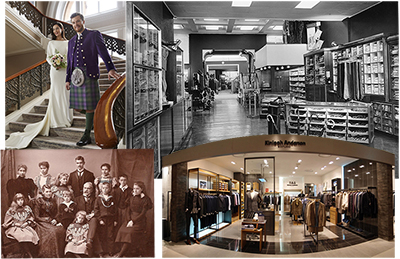 The stories and events that shaped six generations of the Kinloch Anderson company, renowned as foremost experts in tartan and Highland Dress since 1868. The company first supplied The Royal Family in 1903 and currently holds three Royal Warrants of Appointment as Tailors and Kiltmakers to HM The Queen, HRH The Duke of Edinburgh and HRH The Prince of Wales.
Beautifully presented - and quarter bound in City of Edinburgh tartan fabric - this book is a masterpiece on Scotland's National Dress and military tailoring, entrepreneurial business thinking and family history.
The author is passionate about tartan as a gift that Scotland has given to the world and the importance of this great Scottish symbol of identity.
The Kinloch Anderson philosophy is to "Provide quality merchandise with a strong Scottish emphasis in a global niche market and to be a role model for Scotland, upholding the highest principles of integrity and service."
The book contains an illustrated timeline of background historical facts and events in Scotland over the duration of 150 years.
"Combining heritage and innovation has been key to driving family business Kinloch Anderson into the sixth generation." The Scotsman.
This book will appeal to anyone with an interest in Scotland, business, fashion, local history and Scottish lifestyle.
In 1868 the company's founder, William Anderson, tailored fine clothing for the gentlemen of the City and soon became renowned for military uniforms. The company continued to grow and adapt against a background of two world wars and the intervening years of the depression. It serviced military regiments in Canada, South Africa and India.
Kinloch Anderson expanded in the 1970s by attending European Trade Shows and exploring new markets for ladies tartan and tweed skirts throughout Europe and also in USA and Japan. Over 100,000 skirts a year were made in their factories in Scotland. The Queen's Award for Export was received in 1979 and Douglas Kinloch Anderson was awarded an OBE for "Services for Exports" in 1983.
Today Kinloch Anderson is recognised worldwide as a top quality brand and provides finest clothing and other merchandise made under licence in Japan, Taiwan, South Korea and China. There are over 350 shops in the Far East under the Kinloch Anderson brand name.
FORMAT:
Page size 246 x 189 mm
Hardback, full colour, over 300 illustrations and 224 pages.
Delivery
Delivery to the UK will be approximately 1 week.
Delivery for destinations outwith the UK will be approximately 2 weeks.

Delivery charges depend on the value of the shipment and where it will be sent. You will see the costs at the checkout before confirming your order and they can also be found in our Delivery section.